LASTEK® Handheld Colorful Cold Laser Light Therapy Device For Pain Relief
Cenean viverra rhoncus pede. Ut id nisl quis enim dignissim sagittis. Fusce ac felis sitpharetra condimentum...
Guarantee safe & secure checkout
Description
LASTEK® Handheld Colorful Cold Laser Light Therapy Device For Pain Relief
Product Principle
LLLT is a light source treatment that generates a coherent light of a single wavelength. It emits no heat, sounds or vibration. The laser's energy is used to penetrate the skin and stimulate the body's natural healing processes, by this way, every cell in the treatment area received the energy activate deep tissue repair. Laser irradiation can diminish inflammation to edema fluid, accelerate the activity of lymphocytes and the body's self-healing system, accelerate the secretion of analgesic substances, reduce the sensitivity of the peripheral nerve, thus for pain treatment.
Relief Body Pain
Low level laser therapy can penetrate deeply into the body to diminish pain and stimulate healing, improving the blood circulation, diminishing the inflammation quickly.
Wood healing
Low level laser stimulate the cells to increase the production of certain enzymes which affect cell proliferation or cell division, thus increasing the healing speed of a wound.
Product Application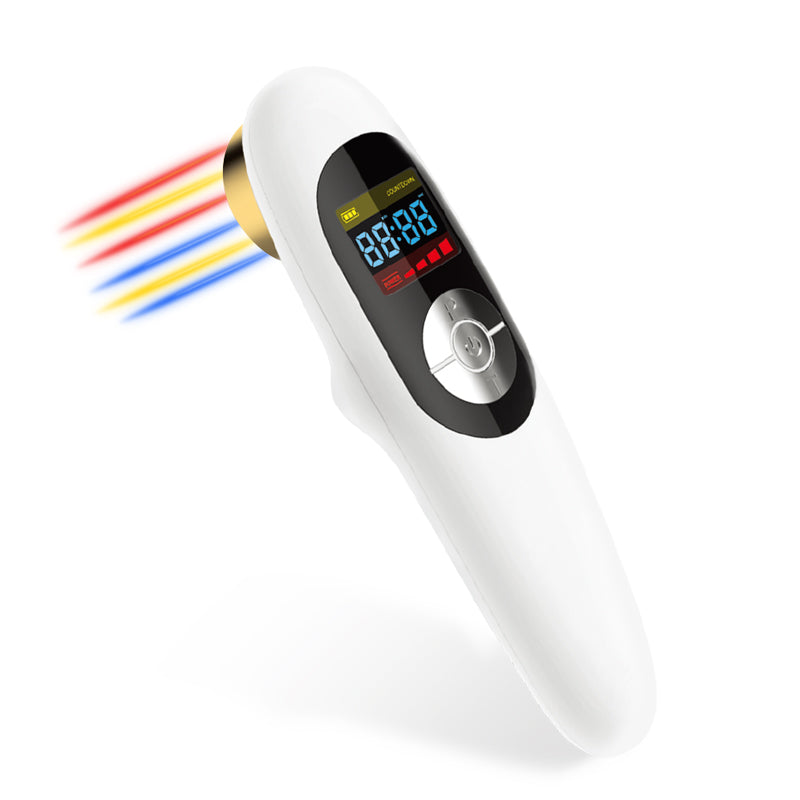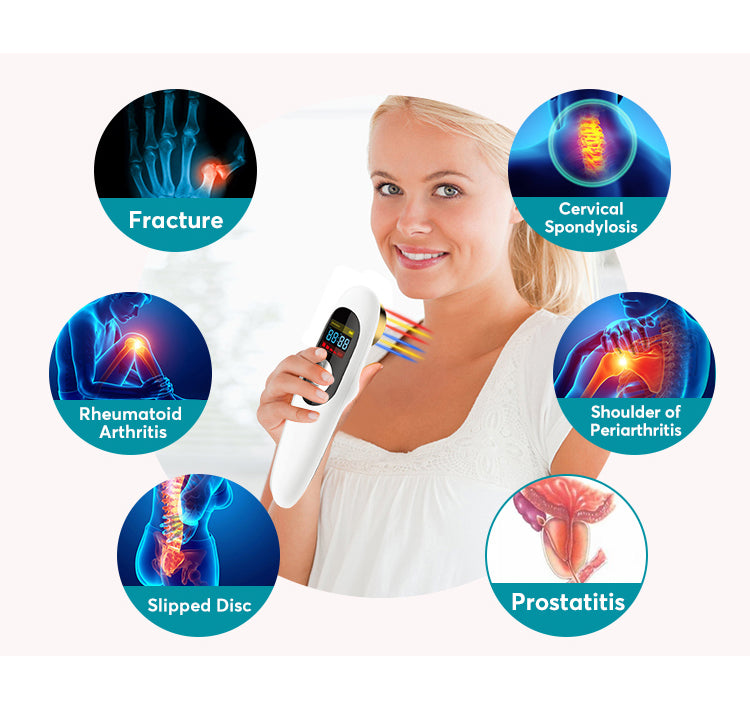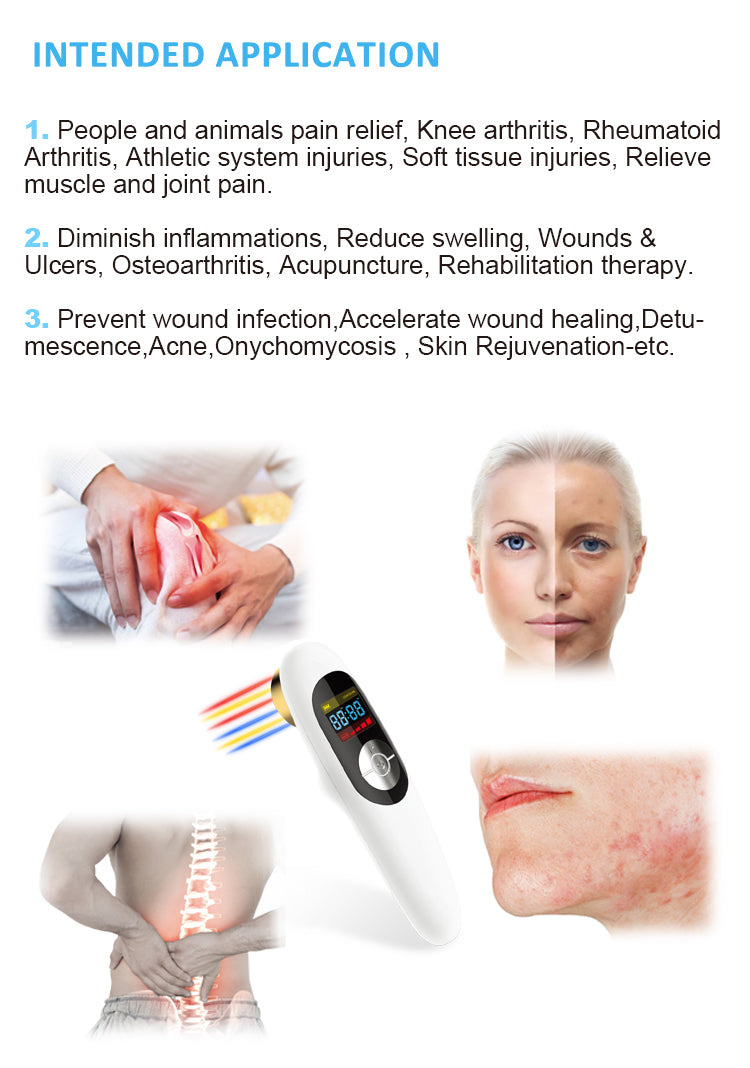 Product Specification
| | |
| --- | --- |
| Laser wavelength | 650nm±20nm , 810nm±20nm |
| Blue LED light wavelength | 465nm ±10nm |
| Yellow LED light wavelength | 590nm ±10nm |
| Timing range | 10min~30min can choose |
| Power source | Lithiumion battery with capacity1800mAh |
| Battery voltage | DC5V |
| Input power | ≤10VA |
| Working environment | Temperature5ºC-40ºC , Relative humidity≤80% |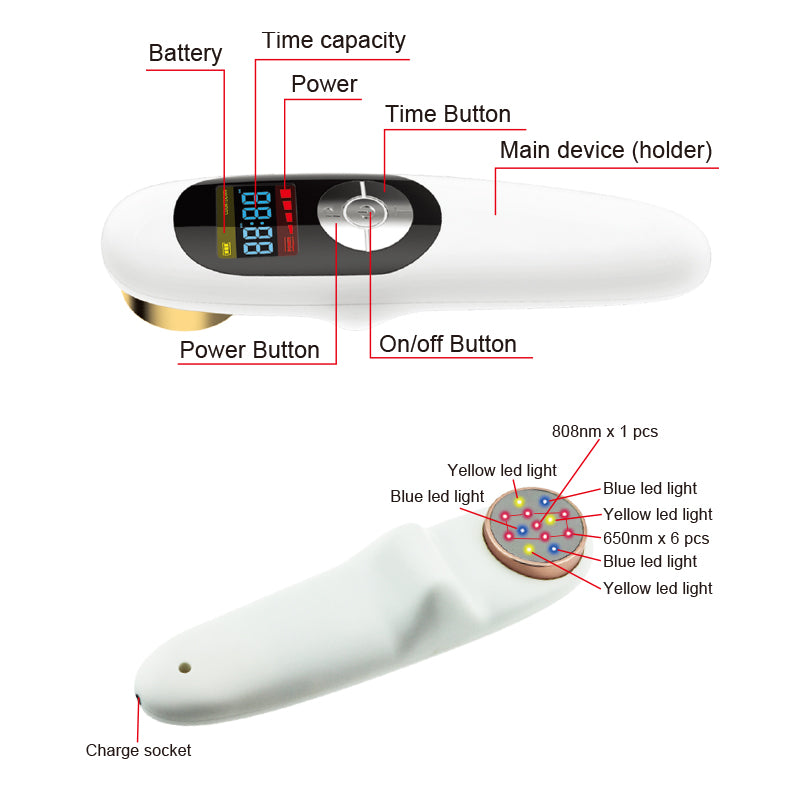 Package includes:
1x Pain relief low-level cold laser device
1x Power adapter
1x Manual
Instructions
1.Distance: Apply the light from 1-2 inches to the skin.
2.Session Time: Please use 2 times a day for about 30 minutes for each time. 7-10 days for one treatment course.After 7-10 days. Stop one or two days. Then,continue for next course. No side effects under the long-term use.Make sure to stay hydrated during the treatment.
3.Light Area: Led Light can be applied to any area of the body,except the eyes. 
DISCLAIMER:
This product is not intended to diagnose, cure or prevent disease. LASTEK® makes no claims, representations or warranties regarding the ability of this product to cure any physical, skin or mental condition. A qualified health professional should be consulted with regard to any condition requiring medical attention. This device is intended only for personal household use, commercial use is not intended. As a therapeutic device, LLLT has achieved a FDA low-risk general wellness status.