LASTEK® Wrist Type Laser Therapy Device for Hypertention Rhinitis Diabetes
Cenean viverra rhoncus pede. Ut id nisl quis enim dignissim sagittis. Fusce ac felis sitpharetra condimentum...
Guarantee safe & secure checkout
Description
Product Principle

Low level laser therapy, also called cold laser therapy, is based on the process of light absorption into the cells, which stimulates protein synthesis and improve metabolism to produce more lipoprotein lipase. The lipase will decompose the fat garbage in the blood,  improve the red blood cell carrying more oxygen, and purify the blood, so that the blood fat and total cholesterol reduced and the insulin secretion back to normal level. This hi-technology ,combined with Chinese traditional acupuncture (irradiate certain acupoints), makes the treatment amazing! We have solid clinical trials to prove it.
Application
1.High blood pressure, high blood fat, high blood sugar, diabetes.
2.High blood viscosity, cerebral thrombosis, stroke, sudden death.
3.Pain relief, sport injury, wound, joint pain, fracture, arthritis and all kinds of body pain.
4.Rhinitis, allergic rhinitis, acute rhinitis, chronic rhinitis, sinusitis and nasal polyps.
5.Hyperviscosity, hyperlipemia, hyperlipidemia, hypertension,cardiovascular and cerebrovascular disease.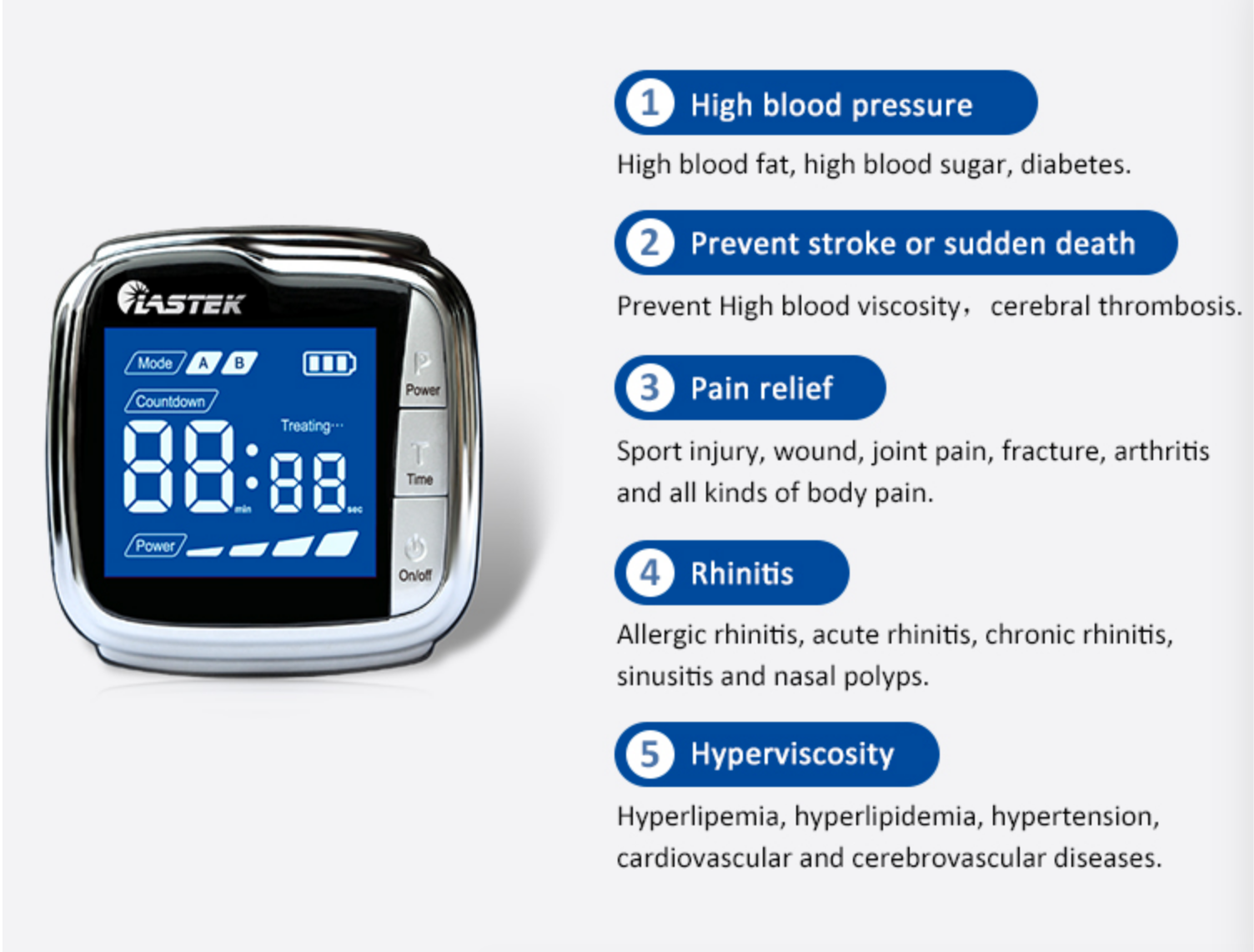 Advantages
1. Low level laser irradiation, non-invasive, no side effect, no cross infection, pure green physiotherapy.
2. Above 90% therapeutic effect with positive clinical trial report provided.
3. As household physiotherapy devices, small size, intelligent design, easy operation and convenient carrying.
4. Great marketing margin exists.
5. 10 years of clinical experience in China's top three hospitals.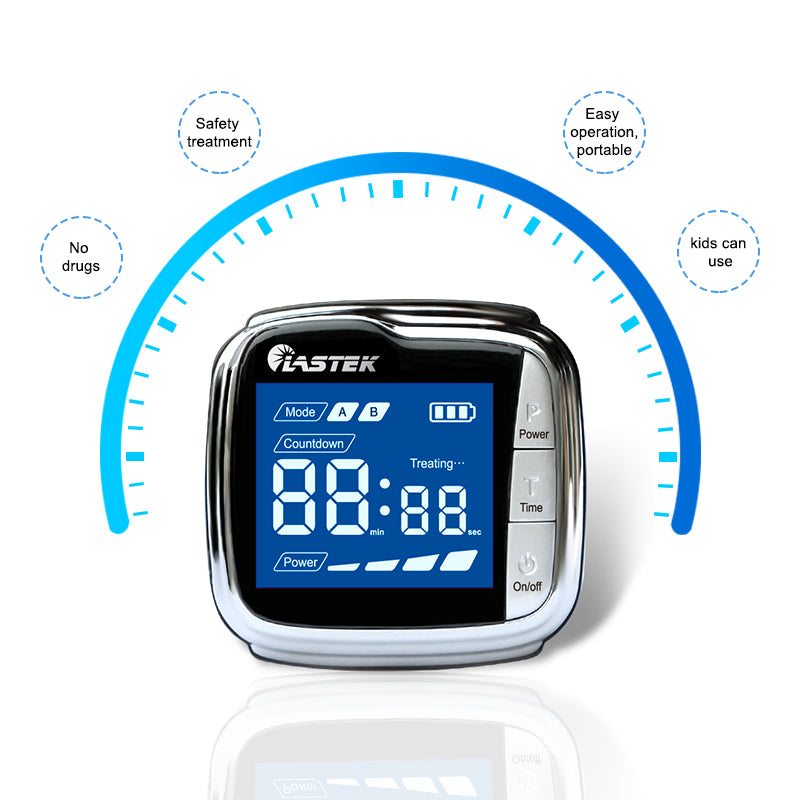 Specification
Laser emission wavelength:  650nm
Laser operating voltage:  3.7-4.2V
Input voltage of power:  100V-240V
Atmospheric pressure:  86kpa-106kpa
Environment temperature:  -20°C-40°C
Time range:  15-60min, 4 grades for adjustment
Relative humidity:  ≤85%
Package includes:
1x Laser Pad
1x Laser Medical Watch
1x USB Power Cord And Plug
1x English User Manual
1x Single Head nasal laser probe line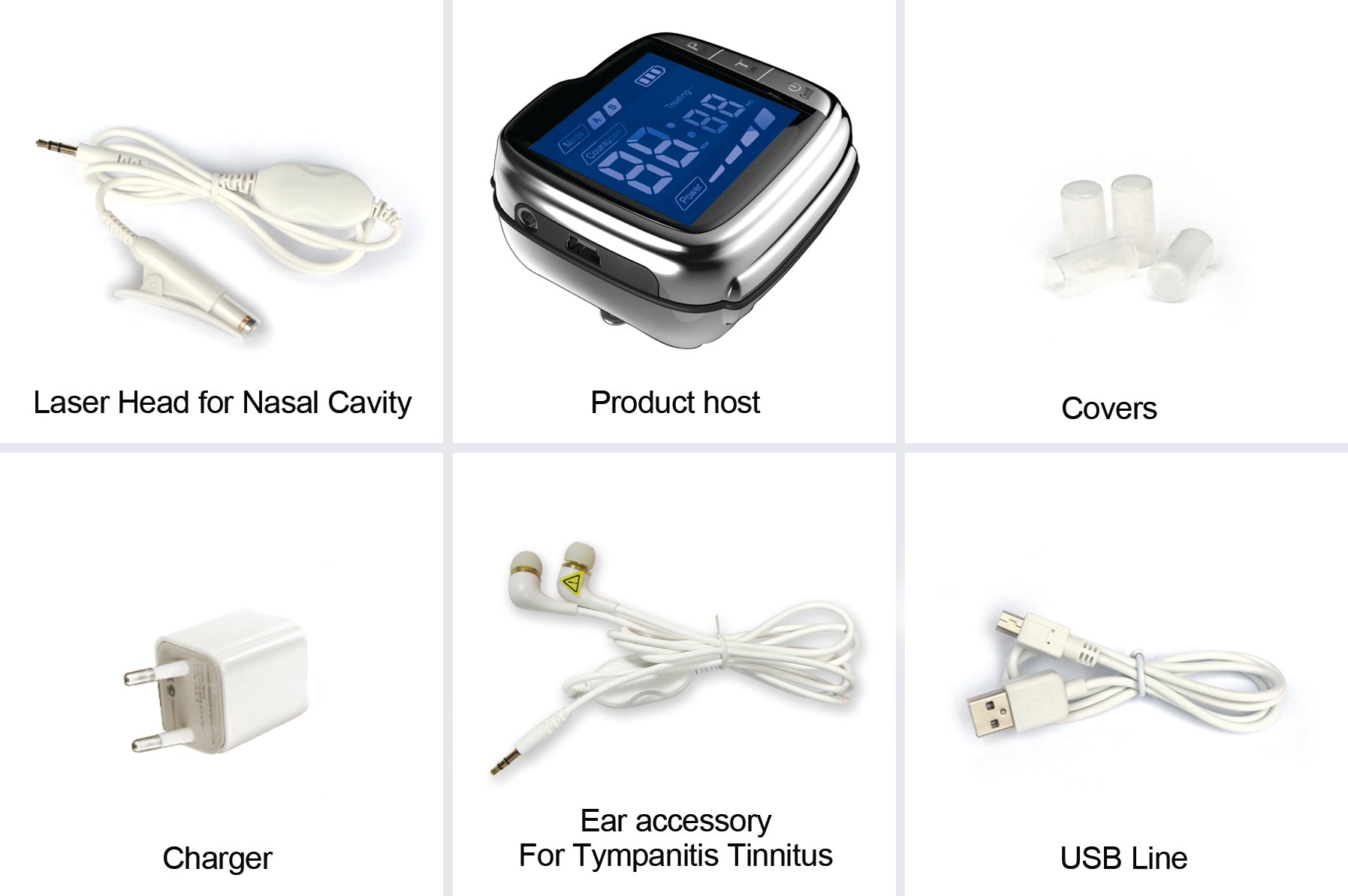 Usage Method
Twice per day(morning or evening), 30 minutes for each time, 7-10 days for one treatment course.
After 7-10 days, stop one or two days, then, continue for next course.
No any side effects under the long-term use. Make sure to stay hydrated during the treatment.
Caution
This appliance is a class 3R laser, please read the instruction carefully before use.
1. Avoid shining the laser in the eyes.
2. Do not share at the laser dots. Should you experience a sustained after image effect lasting over 10 seconds, please discontinue to use immediately.
3. If the subject is sensitive to light, set the laser power on low and use only for a short duration of less than 15 minutes twice a day.
4. Do not use this laser on people who are pregnant, have cancer, or hemorrhagic diseases.
DISCLAIMER
This product is not intended to diagnose, cure or prevent disease. LASTEK® makes no claims, representations or warranties regarding the ability of this product to cure any physical, skin or mental condition. A qualified health professional should be consulted with regard to any condition requiring medical attention. This device is intended only for personal household use, commercial use is not intended.